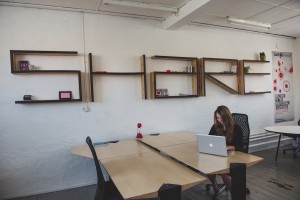 WHAT DOES THIS CO-WORKING SPACE FOCUS ON
An old autobody repair shop turned Professional Playground, DARE2mansion offers a new model of incubation and co-working for ambitious startups that want to make a difference. The model is based on diversity which means DARE2mansion welcomes all kinds of startups from all industries. Check out their website to see whose currently sitting in the Mansion.
OFFICE AND WORKSPACES OPTIONS
Flex: Open desk, 1500 DKK + VAT per month
Office Room: 3500 DKK and up per month
Brain food lunch: 300 DKK per month
This price includes:
All you can drink coffee
Internet, printing, and 24/7 access
Brain jams and Thinking Tuesday workshops
Meditation room
Breakout meeting rooms
Lounge space
Café seating area
Free beer on Fridays
Table football
Arcade game machines
Heated Japanese toilets
Library
CONTACT FOR CO-WORKING
Learn more about becoming a Mansioner on www.DARE2mansion.com
Got questions? Write to mansioner@DARE2.dk
EVENTS AND MEETING SPACES
The Mansion can host anywhere from 2 to 149 people for meetings, workshops or conferences. There is service to provide coffee and water and they can help with food, technical support, and workshop design depending on your needs.
To see the awesome spaces check out www.DARE2mansion.dk
If you're interested in renting the Mansion for an event: myevent@DARE2.dk
Facebook: https://www.facebook.com/DARE2mansion
Twitter: https://twitter.com/DARE2mansion