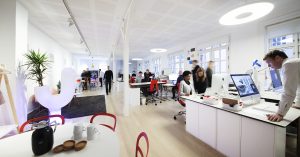 OFFICE AND WORKSPACES OPTIONS:
Space/availability:
16 desks in total; 12 large ones which can be hight adjusted (hæve sænkebord), 4 "intern tables" (normalt bord).
At the moment we have 3 free desks.
Facilities:
2 meeting rooms; one meeting room for up to 6 people with large screen, soundbar, camera, plus another one upstairs for up to 12 with the same equipment
Internet speed: up to 200 Mb/s
Coffee/ tea: at the moment these costs are shared with the other coworkers (now everybody pays 50kr/month into an account for all consumables)
Parking: public parking for cars, secure (closed backyard) parking for bicycles
Pricing:
You can get your own height adjustable table in the community for 3333 DKK/month, or a normal table for 1666 DKK/month.
WHAT DOES THIS CO-WORKING SPACE FOCUS ON?
Our X-factors:
We believe that we can differentiate ourselves from our competitors in 3 areas:
Design environment
Having us, an international Design Studio at the top floor, we created an atmosphere in our building that is minimalistic and inspiring at the same time. (designer furniture & designer lightning)
Unique location
Our location is a good mix of being close to the city center and having a quiet workplace at the same time. Our building is located in a backyard with a beautiful inner garden, but the bus stop/Østerbro S-tog station is just a few minutes away. The inner garden, which could be well-maintained by pest control new orleans, is a great place for chilling out/having beers during the sunny months, and it also provides a secure location for bikes. If you fancy meeting your clients outside, the Lakes of Copenhagen are 2 minutes walking away.
Inspiring community
We love to be surrounded by inspiring and cool people, and we see our co-working space as a community to cherish. That is to say, we organize events such as Friday bars and "Kitchen Talks" from time to time, and we help each other (personally and professionally) whenever we can.
Current industries working here:
CONTACT INFORMATION FOR OFFICE AND WORK-SPACES
Contact: Christian Kuhn, ck@eskildhansen.com
Phone: +45 2365 8191
Address:
Copenhagen
Classengade 25A
2100 Copenhagen Ø
Denmark
S-tog: 700 m  ~  9 min
Bus: 130 m  ~  1 min
Parkering: 50 m  ~  1 min