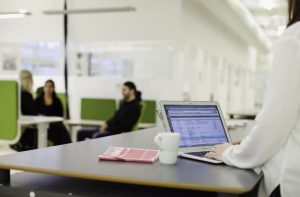 Mindpark is a co-working space that has multiple locations in southern Sweden.
There are three different Mindpark in the Øresund region:
In Helsingborg it is located right next to Lunds University Campus Helsingborg. In Malmö it is located in the Business district Hyllie, and in Lund in the old town city center.
What does this co-working space focus on?
Mindpark is open to all kind of companies, but the fashionable interior has a natural appeal to more creative companies. But here both IT, design and consultancies can be found.
Office and workspaces options:
Flex: Open desk, but you have to clean it before you leave. There are lockers included however. From 2300 sek per month
Fixed: Large deskspaces, with adjacent lockers. From 2900 sek per month
Office – small: Small officespace for 1 person. From 3500 sek per month
Office – medium: Officespace 2 persons. From 4900 sek per month
Office – large: for 3-4 persons. From 6000 sek per month
All includes internet, printing, meeting spaces and acces 24/7.
Mindpark also has open spaces of 600 m2 for events.
Contact information for office and work-spaces
All questions about offices are welcome at: office@mindpark.se

Contact information for events and meeting spaces
If you want to rent the event space or meetingrooms the contactinformation is: reception@mindpark.se
Incubator program
Mindpark also has an accelerator, known as Think.
For more information about Mindpark co-working space see the official co-working page.

Mindpark is famous for it's edgy and inspiring design. Being a mixture of rough industry and minimalistic scandinavian design, it is an office space like otherwise only found at large headquarters.