A while ago an amazing goal and opportunity were decided upon, forcing the team to work even harder. The question is, have we reached it, now four weeks later, or did we promise too much? Right now, I am 10.000 m up, on an airplane heading to Barcelona and the Mobile World Congress 2018, world's biggest congress regarding mobile and connected tech. What do I have in my luggage? A Smart Living Wall. We did it.
For a while, I and the Bylife-team have been thinking about how to connect all the sensors we use in the wall, to get their data to the cloud, for use to monitor the health and status of the plants. Wi-Fi is easy, but how do you do it "plug-&-play"-easy?  (This is what the industry calls – Internet of Things, IoT). A business meeting five weeks ago, with a supplier that had just the product that we needed. An IoT SIM-card, that would work anywhere in the world. "Perfect, we'll take it. But… what about the fair you are going to, rumor has it you would benefit from a use-case to display?" I found myself saying. Shit – What did I just ask? Our prototype was only a shell, with no proven technology working on the inside.
Mobile World Congress is a fair they, the supplier and now our partner had been planning for almost a year. Now, five weeks to go, they should display our product? A few days later I received an email – "The market team has approved, can you deliver? You have 36 hours to reply." And the four busiest weeks in my life started.
From then it is almost a cloud. If I ought to review what I did I have to look at my calendar. Some of the things we accomplished, and all "a first" was: Learning how-to and writing a patent. Build and prove all the internal tech on our wall and let it run for a few days. Learn how to transport a bookshelf to southern Europe (with plants). Write and send out a press release. Create an AB with the co-founders in a mature and long-term way. All this we accomplished while staying friends.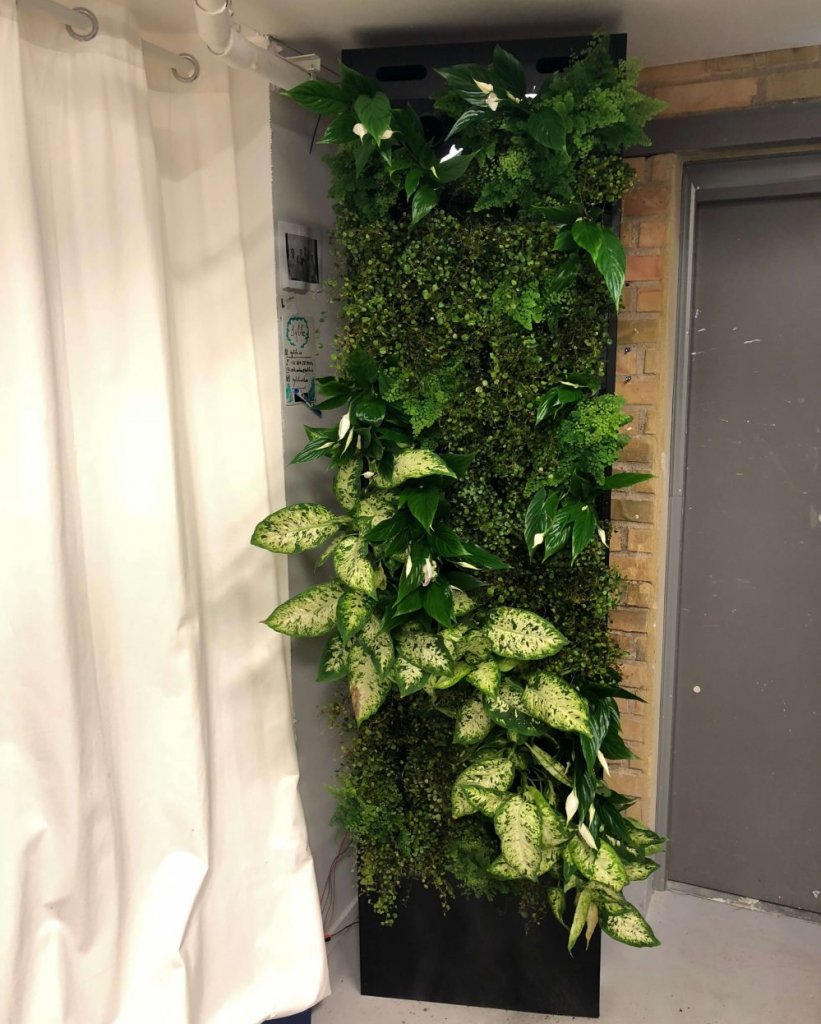 It took more than a year, for the wall to be fully finished and for me to insert the plants, decorating it like a canvas depending on how I wanted. A year, and 5 minutes after it was finished, a few photos were taken, it was all taken apart. Packed on a pallet and shipped the next day on a truck. What an emotional roller coaster. Once the wall was shipped, I flew on clouds – there was nothing Bylife couldn't solve!
The pressure of being a founder, from the outside or within?
It is unfortunately clear why so few companies are founded, and why so few are raising their hand when someone asks – who would like to lead? It is because of the pressure and responsibility that comes with it. Now, with the AB founded, it is up to me and to co-founders to bring the money in and pay salary to future employees.
But the pressure does not come from your surroundings. I have never seen a more supporting and kind environment than that around the startup-community – everyone who has walked down this road knows the challenges. The pressure comes from you and living up to your own expectations.
The price you pay – putting your friends and family aside, to realize your vision and dream of the company. This is what I am most sad about and my most challenging personal goal of the year – work less, or smarter – to get my life-work harmony straight.
The conclusion of these four weeks is that it is addictive to work. The more you work, the more result you'll see. It will be exciting to see what the outcome will be from Mobile World Congress that starts in a few days – will we make any actual sales for instance? But I am equally excited to share a dinner with my friends and hear their own stories from these past weeks. If you can have both – the world is yours.
Once every month you will be able to read more from Erik Wilson. Check back last Sunday of March for part 3 of our Startup story!