Have you heard about Sustainary's Green Impact Week coming up in Copenhagen? Starting from May 30-31 2022, get ready for an event consisting of expos, talent fairs, workshops, VC matchmaking, conferences, installations, award shows, art installations food markets, and more!
Several companies and products are making the switch to green. However, we must think beyond net-zero goals and strive for a regenerative society in which we give more than we consume. For Impact Week, the focus has switched from green transition to regenerative transition. With the Green Impact Summit's theme the "regenerative society", be prepared to meet 1500+ companies, 175+ speakers, investors, thought leaders, and students from around the globe and more locally, from the Øresund region at this international event. At the summit, several impactful existing and upcoming green solutions will be introduced, share experiences, and discuss solutions and models on how to create a Regenerative Society. It's also a great opportunity to showcase the product, share knowledge and participate in networking.
Read more and don't forget to secure your spot!
Signup is here:
greenimpactweek.com/green-impact-100/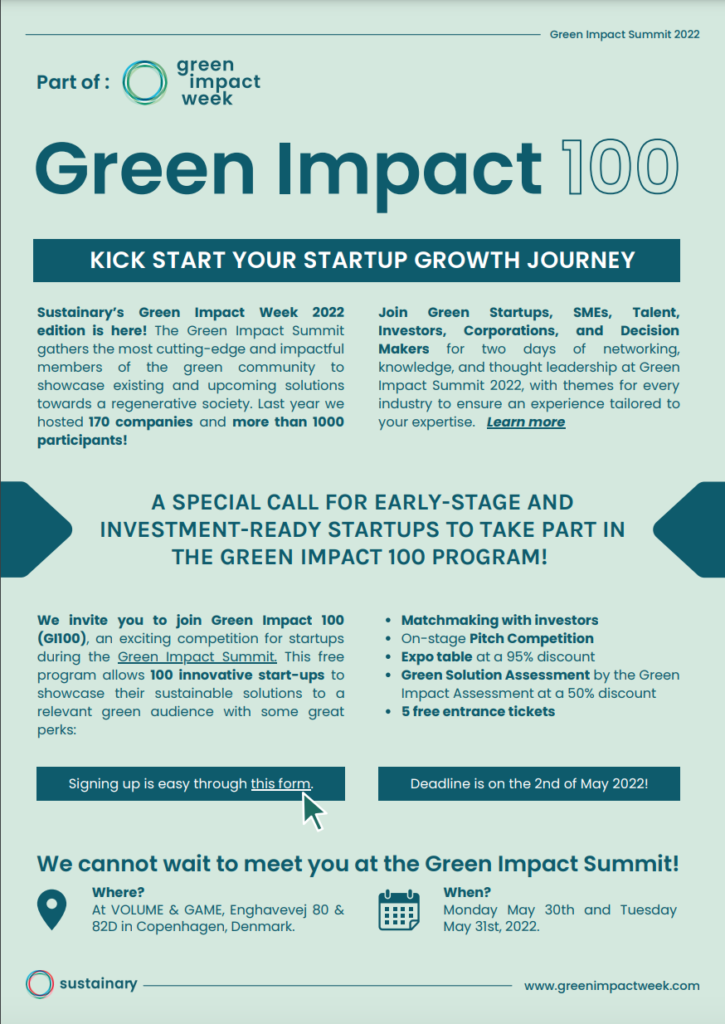 Founded in 2018, Sustainary, a Copenhagen is based non-profit platform that identifies and helps new and innovative technology businesses in making sustainable changes.