Meet Bjørn Vestergaard, the co-founder and CEO of Podup. A Denmark-based startup that is the only profit platform where podcast creators can monetize as well as gain success in a fun, easy and exciting manner. So how does one start making money on a newly launched podcast using the Podup platform? We spoke to Bjørn Vestergaard and had an interview with him to find out what Podup is all about.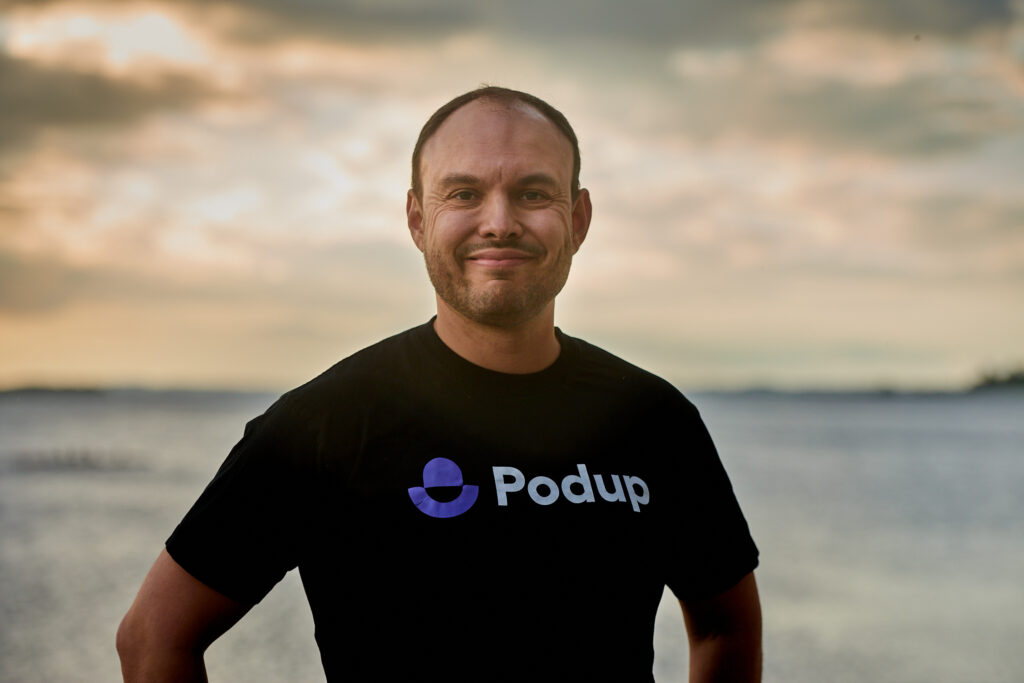 Bjørn Vestergaard, Founder and CEO of Podup

Hi! We are happy to have you here at Øresundstartups News. Tell us briefly about your background and main field of expertise?
I am a digital marketer and a podcaster by heart.
"I did my Master's in Management of innovation and business development from Copenhagen Business School (CBS). I have been working with online media and marketing for more than 10 years and had my own agency as well. After my education, I worked for a few corporate jobs. I had been working with the largest Danish media house, JP/Politikens Hus in both digital marketing and digital business development area. Later, I worked as a brand manager for one of the largest entertainment companies in Denmark."
"When I was working at the  JP/Politikens Hus, I made my own podcast as a side hustle. I had a very big passion for interviewing highly skilled people and I actually did it because I wanted to create a library as a gift to my son. Eventually, the podcast became very popular. I have been running a podcast called Rollemodellerne, which means role models for nearly 5 years and it is one of the most listened podcast in Denmark in the startup and business category."
What made you start the Podup? What kind of demand have you noticed? Can you share a bit more about your vision with our readers?
"As a podcaster, I spent a lot of time building and running a podcast which became very demanding. To have a popular podcast, I had to record, research, distribute and market each new episode. It required a lot of work. I realized, even though I had a popular show, I could not make a profit from it. There was no way to make a sustainable kind of environment around it. Even though I had a huge network in the Danish podcasting community, there were many other podcasters who had a large audience, but no one would pay them a dime or sponsor. This left me baffled as I wanted to understand the reason behind this. When I changed my job as a brand manager for one of the largest advertisers in Denmark, I saw that many advertisers had a hard time engaging in podcasting as a marketing activity, as they lacked transparency, and finding a good match was time-consuming. They found it risky to reach out to potential podcasters and did not know how to negotiate a deal, what to tell the podcaster to say, or showcase a sponsorship. As a result, a brand manager or marketing manager, or CMO would prefer to put more money into other channels as podcasting was too much of a hassle."
"This made me realize that I should create a platform where it would be easy for podcast creators to monetize their podcast and allow them to make a decision for themselves, whether sponsorship, donation, or subscription from listeners is the best way to make money. Podup provides easy decision-making and a transparent platform for the podcaster, but also for advertisers who want to engage in the space. It has given them an easy access point where one can find the right podcasting, sponsorship opportunities. This was a kind of epiphany I had that led me to create a Podup as I wanted to help the podcasters to have an easy and sustainable way of making money."
We have read that podcasters can receive profits from the platform, how exciting! Would you like to share a little about it with our readers?
"The platform is presently an MVP (Minimum Viable Product). We have had a positive reaction from the beta testers and have seen that Podup has been able to solve the problem for the creators in a totally different way than everybody else in the marketplace right now. We have built this platform as a tool for the creators to use; they can still use the same podcasthost that they have and the listeners can still listen to their favorite podcast listening apps."
"The value proposition we have towards podcasters is that it's very easy and quick for them to sign up, and they can make money right away. Once the podcasters have signed up, they have access to monetize from the listeners and available sponsorship options. A link is provided which can be shared across your podcast pages where they can either donate or they can subscribe. The link can also be shared with the listeners. We have a feature called Podboard, which is a storefront for the podcast, where the customer journey from listening to a podcast to buying becomes simpler. Later, it takes you to a place on the platform or subpage on the platform where you have access to different monetization options for advertisers. So that means that we have a library of advertisers you can pick."
"We have two ways for advertisers. One is sponsorship, that is, the company advertiser will pay you a fixed amount of money per episode. The fixed-price sponsorships would not be available to everybody since it's based on certain requirements from the advertiser. The podcast needs to match, the category, the listeners, and, audience requirements, and if it doesn't – it's not a match. Another way to receive profit is through performance deals, where we help small and medium podcasts monetize. This is one of the great features as the sponsor will pay you on the number of sales you generate, based on a discount code. If they have 2 to 300 listeners on a podcast, it's definitely doable to have five or six people be using your bonus code. And if they pay 100-200 DKK per new lead, that is also monetization straight up, even though you don't have a large audience, and you can start actually making money from your work, which is what we want you to empower the creators to do."
What makes Popdup different from other companies?
"The way we differ is that most traditional players here have taken the agency model and kind of digitalize that lets you submit, you have to move your podcast to a monetization platform. For small and medium podcasts, they are trying to sell auto-inserted ads, like you know from fx YouTube. This is a bad model for a podcast because it doesn't pay much, as well as adding commercials into the podcasts."
"At Podup, we have built our own marketplace which will empower stakeholders to find each other and make matches. The less we are involved, the more the transaction is going to happen without us having to tell the parties what to do. We want to make it accessible for people to take the right kind of decision. If the podcaster wants to monetize from the listeners, we provide a toolkit that helps them. The podcaster can simply check how much they made through a dashboard."
"We are helping someone start a podcast, grow their journey, monetize and grow their show. If the creator at some point, a podcast network either pays them to buy their show or they get sponsors approaching them directly. It's a great success scenario for us because then we have helped empower an economically sustainable podcast and that's the way we see it. We want to empower the ecosystem and we want to help podcasters grow their show and if they grow by using our product, it is a success for us because we have provided what was not previously there."

We also heard you will be receiving a first investment round. That's great news! Can you tell us a little more about that? How will the company benefit from it?
"We have been very fortunate that we have gotten a little bit of soft money to begin our company initially, which has helped our development.  And yes, we are looking into an investment round now, which will be used primarily to strengthen our technology and strengthen our organization. We want to build the best technology around this space and find a scalable and superior solution solve to the problem and we know that requires a lot of tech development. This round will be for us to take the next step. We consider it the pre-seed round. So for us the faster we can close the investment round and get moving, the happier we will be."
Recently you were selected among the top finalist in the Beyond Beta Accelerator. Could you share it with our readers about it?
"From the 150 participants, we were selected among the 12 finalists in the 5-month acceleration program. It aimed at the most promising scalable start-ups in Scandinavia. We secured a place in the final based on the strong growth and progress the mentors had seen, and in the period Podup managed to grow our revenue significantly, while also strengthening our culture and technology. After graduation Accelerace noted that Podup is among the start-ups and founders to look out for in 2022."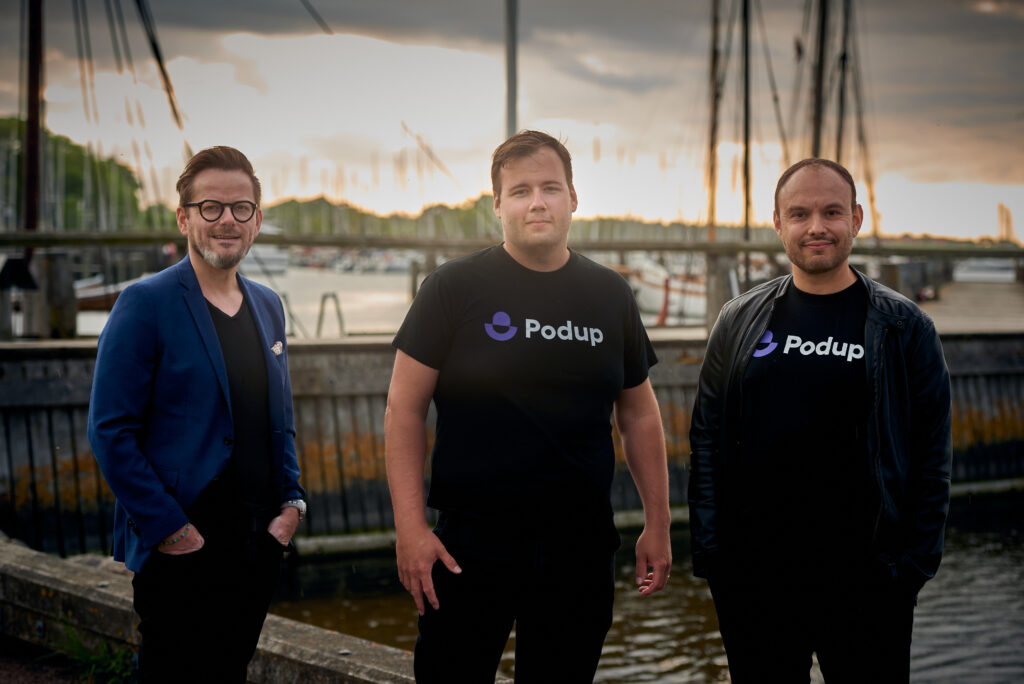 What is your biggest challenge right now?
"The biggest challenge we are facing now is that we need to catch up with the fast speed of the marketplace which is a very exciting space to be in. We are in the process of scaling up the business and why we need to raise an investment round that will help us in the development of our startup. Secondly, the other challenge is getting up to speed with the advertisers. We have a huge task ahead of educating the market about the best podcasts and helping to solve a puzzle on how they can use podcasts well within the magazine."
"Fortunately, we are lucky and proud to have some of the largest brands in Denmark with us. Even though we have gained success in Denmark, we are looking to expand in other areas where podcasters can benefit. So getting the advertisers to realize the big hidden opportunity in podcasting is one of the challenges. Getting them to act on it and invest in it, and thinking about it in their magazine strategies is definitely something of a challenge that we are also facing."