Muhannad Abdulhafiz is an ambitious dentist who created a successful startup in Sweden, basing on the rule: "Necessity is the mother of invention".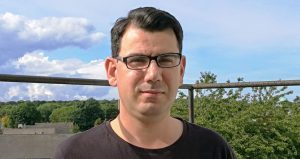 The Syrian-born dentist of Palestinian descent moved to Sweden more than two years ago and currently lives with his family in Helsingborg. He studied dentistry at Aleppo University in Syria and graduated in 2000, worked there as a dentist for 14 years.
As he arrived, it was inconvenient for him that he could not get access to an internet broadband at the area, where he lived. At that time, he started to learn Swedish and wanted to do this in a practical way by learning online, instead of opening the dictionary every time to look for every single word.
The problem with internet coverage was a big obstacle, which made it difficult for him to learn, and there was no dictionary app to download on smartphones to accelerate learning Swedish.
So, he decided to develop a dictionary app that can make it much easier for him and for newcomers who learn Swedish. The app should even be used offline.
Øresund's startups have interviewed the dentist and asked him about what his startup is about.
"It is an android application that is called "Lexin Smart". I launched it at Google Play Store more than a year ago. It is the first offline dictionary ever, which is based on Lexin famous dictionary website. It supports bidirectional translation between Swedish and 14 languages with voice pronunciation, examples, idioms… etc", explains Muhannad. "Necessity is the mother of invention, and the need encouraged me to bring my idea to reality. When I came to Sweden, I lived in a place without broadband internet. I had to use 3G internet, which was expensive, indeed. Even the coverage was not that good. Since language is the most important thing for newcomers, I thought that an offline Swedish dictionary would be very useful for Swedish learners", he added.
For him, the first challenge was that he was unfamiliar with android programming. For him, programming is a hobby. However, he used to create programs only for PCs, not for cell phones.
Later, when he finally got enough time and internet access, he was able to embark his first android application.
Developing a dictionary as an app was not that easy for him. He had no idea about which dictionary can be the best choice for Swedish learners. He compared and searched dictionary websites and applications. Finally, he was convinced that Lexin is the most useful dictionary site to learn Swedish at the moment. Fortunately, he even succeeded in getting a permission to use Lexin resources.
"The purpose of my idea is to help newcomers to practically and easily learn Swedish. In this regard, the main principle is basing on creating a "Lexin Smart" that should be a free offline application, and it will be free forever! Later, I added a small advertising banner to the application through Google AdMob Service, which enabled me to cover the cost of the app and to earn some income. I started then to pay back a part of it to society as taxes", he commented.  
At the beginning, Dr. Abdulhafiz worked on his own, believing that it could be possible for him to accomplish the mission out of any support.
Though, he realized that he could not go on and succeed alone. His wife and other family members gave him all encouragement and support he was in need of. So, he succeeded in launching the application.
Meanwhile, he had to look for help to develop and manage the application. In this regard, he heard about "Språkcafé för företagare" at Mindpark in Helsingborg. So, he just went there and got an idea about how to manage business in Sweden. There, he was introduced by a mentor to a programming company in Helsingborg, namely Simson Creative Solutions. The company considerably helped him with developing the application.
Answering Øresund's startups question, Dr. Abdulhafiz does not mind to continue developing similar applications along with his career as a dentist.
"Why not? Although I have been working as a dentist for long time ago, I used to make some personal programs during leisure times. However, I currently focus on my dental career, which claims many requirements here in Sweden to get a dental license. At the same time, I try to work on developing an iOS version of "Lexin Smart", because it is highly demanded by users. This is in addition to maintenance and updating work for the current android version", he answered.
Dr. Abdulhafiz believes that just planning well shall lead to a good start. According to him, business in Sweden is accessible and easy for all without limits, and support can be found easily.
"The bulk of IT-projects started with a simple personal idea and became global. Multinational companies started with simple ideas. Sweden is a pioneer country concerning IT-projects, and smartphones market rapidly expands everywhere", he added.