Cogo is a solution for those who want to find and compare the services of shared electric scooters, bicycles, cars and mopeds in urban
environments. The Cogo app is now officially launched, and it is available in Swedish, English and Danish for to iOS and Android devices.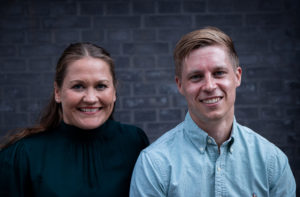 The startup was founded in 2019 by Robin Eriksson and Bibi Blomqvist, both former high-ranking managers of the travel site momondo. Robin Eriksson used to be the Regional Manager and responsible for momondo's growth in the Nordics, Germany, and all English-speaking markets. After the time on momondo, he was the Marketing Manager in Uniti. Bibi Blomqvist was momondo's Sales Manager and was responsible for all global commercial partnerships. After Booking Holdings acquired momondo, she continued as Vice Director of the flight services and responsible for all EMEA partnerships.
Cogo's aim is to make it easier for city dwellers to move environmentally friendly in everyday life. 70% of the world's carbon dioxide emissions come from cities, and shared mobility is considered one of the solutions to turn the trend. In recent years alone, many new mobility operators have emerged in Europe, and the trend seems to be here to stay.
"Bibi and I are very proud of what our team has achieved in such a short time. The industry is still young, but already we can see the enormously positive effects shared vehicles have on the cities. We hope and believe that Cogo will accelerate and strengthen this trend and thereby contribute to a more sustainable future for Sweden's and the world's cities", – Robin Eriksson, co-founder.
In this rapidly growing industry, however, it is becoming increasingly difficult for the individual to navigate. In the Cogo app, the user quickly gets an overview of shared eco-friendly vehicles nearby, location of the vehicles, price, and possible battery status. The purpose of Cogo is to offer users an easy-to-use and transparent service that makes it easier to find and the best match.
The app is now available for download for free and includes over 140 operators in 400 cities across the globe. Although the service was only recently launched, Cogo has already been used in over 250 cities in 40 countries.
"We are very pleased with the positive response from both operators and users. This is a proof that Cogo fulfills an important function in the everyday lives of urban people. In many cities – for example, Stockholm – there is a very large number of operators for shared mobility, and the inhabitants usually do not know different options and what distinguishes them. We're here to make it easier for users and in the extension will help make the world's cities greener," – Robin continues.