This article is a series of posts published by the Danish Tech Startups Association on their LinkedIn page. Their aim is to build a better tomorrow with startups and founders. You can read more about them here.

"Entrepreneurship is a marathon of sprints. You must be willing to run fast for a very long time"
For our next start-up profile, we talked to the friendliest CEO in town! Ulrik Borch, the CEO and co-founder of Injurymap.
Ulrik has a background in Commerce from Copenhagen Business School. While graduating around the same time as his two high school friends, Mathias and Sebastian, they applied for the Innofounder program, combining their different academic backgrounds into one founder team.
This led them on the path of creating Injurymap, where Ulrik took on the role of the CEO and has been looking after the commercial aspect of the business for the last seven years.
While looking at the field of muscle and joint pain, the three co-founders realised that not only is it difficult to locate the right treatment for the pain, the treatments done by the physiotherapists for the same pain are not always aligned.
Hence, the three co-founders decided that in this data-driven world, they should be able to create algorithms that help people quickly find the right treatments to their joint problems themselves.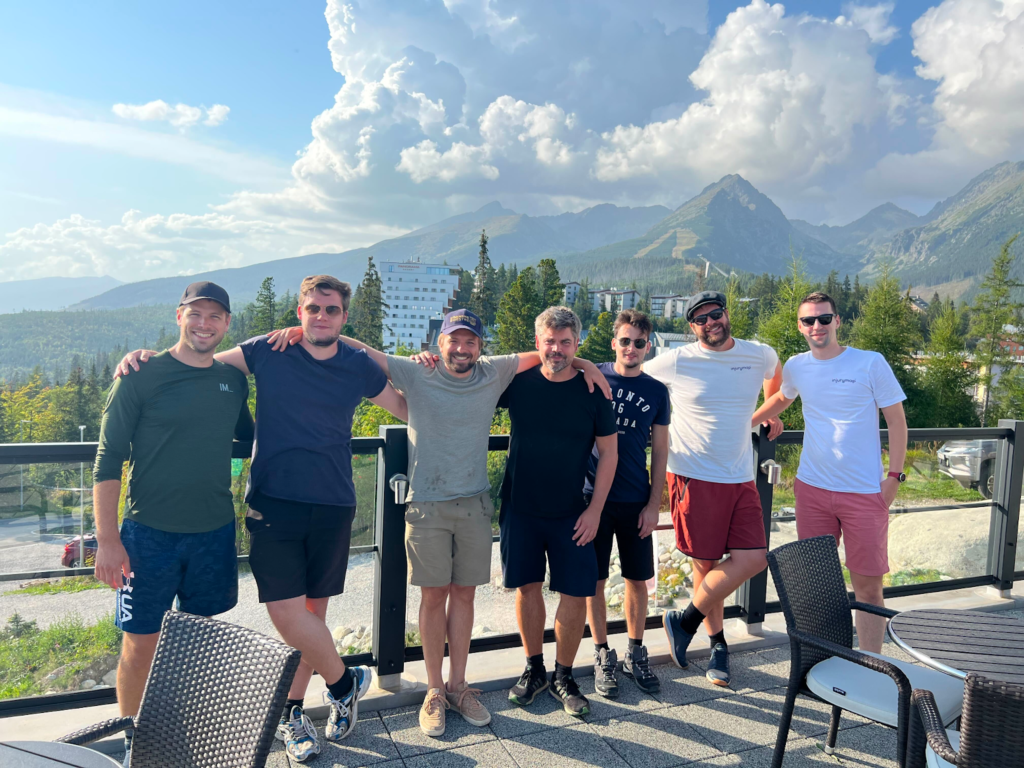 That's how Injurymap came into existence!
Initially, Ulrik faced several challenges when starting Injurymap. They started out with building a diagnostic tool which was too big a challenge to commercialise. So, they pivoted and decided to build an actual treatment platform, i.e., the present Injurymap self-help app.
Shortly thereafter, two experienced doctors Finn Johannsen and Pierre Schydlowsky joined as medical co-founders.
"It is extremely difficult to market new kinds of treatment in health-tech unlike in other sectors where a typical B2C SaaS company has much more control and a faster growth rate. However, investors are realising that they need to consider health tech companies as med-tech companies and often highly attractive business opportunities".

According to Ulrik
Basically, it's a relatively long path to product-market fit that characterises this business.
But what about work-life balance?
Ulrik admits that he can be a bit of a workaholic. He has been spending the last 7 years building a product, always running to reach milestones, raising another round, looking after operational hiccups, getting the next customer and running the next campaign.
That's why he advises young entrepreneurs that a founder's journey:
"is a marathon of sprints. You must be willing to run fast for a very long time. Have fun along the way and maintain endurance".
Running behind all the short-term successes has made Ulrik more conscious of his own physical and mental well-being.
"It won't look good on our health-tech company, if the CEO falls ill".

As he quips,

Do apps have what it takes to become standard partners in global healthcare as traditional med-tech products are today?
Injurymap is an app for self-treatment which also provides patients access to virtual physiotherapists. It's a combination of self-treatment plus talking to physiotherapists online supported by effective follow-ups with text messages and video consultations..
Injurymap is focused on making sure that they help everyone – patients, healthcare system, clinics – measured in both treatment quality and resource-expenditure.
They have a holistic team which includes:
a growing team of physiotherapists who provide the upfront care;
a team of tech people who build the tools;
a product team focused on behavioural science – including expert health professionals; and
business people like Ulrik and the new CCO Anders to ensure product/market fit and set their future course.
However, health-tech is a tricky field as it is difficult to work with a myriad of stakeholders to take into account, a lot of legal demands, a need for clinical evidence, and other variables even though public healthcare could save so many resources because of apps and online platforms.
Ulrik also believes that Denmark and the world must optimise their healthcare systems and improve welfare by investing in technologies that help everyone without new costs. However, the healthcare system is very bureaucratic and stakeholder heavy.
A good understanding of different interests at stake and the long-term potential of new technologies is needed if one wants to succeed in this sector.
Though the need for health-tech solutions is increasing rapidly, the Danish government like any other government in the world is adapting at a slower pace than the change is happening.
They must speed up.
Hence, one needs to be patient working in this sector and pick their battles wisely as it's a long process to have apps as standard partners in healthcare. And it's hard to get a real partnership going with the government.
What the future holds for Injurymap will depend a lot on how fast the government will be introducing health-tech on a broader scale.
Convincing people to do good things for themselves is not so simple
Like other founders, Ulrik also believes that it's easy to get started in Denmark as an entrepreneur as there is little risk involved.
"Convincing people to do good things for themselves is not so simple. And selling an app as a replacement for talking to a human being was incredibly difficult."

as Ulrik puts it
Because, as per Ulrik, the health care sector and our politicians especially might be underestimating the potential for rethinking healthcare.
"There are 5000 physiotherapists who work as clinicians in Denmark, who each year probably treat around 1 million patients. Most of the time they face patients 1-1 following best practice clinical guidelines. However, learning in a traditional clinical setting is relatively slow.  By using a data-driven approach to treatment we strive to continuously learn and fine tune our consultations  and patient-software, and that means we can learn a lot faster than what's possible within the existing model of care. Especially in terms of increasing compliance and motivation with recommendations, we see a huge potential in continuous learning".

he elaborates
As far as the future is concerned, Ulrik would like Injurymap to emerge as the strongest treatment software for physiotherapy in the world with a lot of happy patients, happy employees and happy clinicians.
"My goal is for everyone to win big time"

Ulrik says. 
"includes reducing costs for the healthcare system, while having great working conditions for the health care staff, offering better quality of care, and improving patient outcomes."

he continues.
Although the lack of homegrown tech talent and attracting international talent are the problems that every Danish CEO faces, some of the challenges that Ulrik faces are unique to the health-tech sector.
"Healthcare is extremely rigid to change. It is very easy for just one stakeholder to say no, and then quickly what could have become an ambitious new tech-program is stalled year-over-year. There are many reasons why various stakeholders might be against health tech solutions; including of course bad experiences with large IT projects in the past, but also sometimes scepticism of new solutions with unconventional approaches to care provision, and not so many years of impact and evidence to show. And though this might be changing at individual level, systemic change of a conservative system is a tough cookie to crack".

according to Ulrik
Making a name for yourself as a new founder isn't always easy
Injurymap is completely focused on making physiotherapy digital and shaped by the best practices.
Their approach is to hyper-personalise and optimise the patient-journey from start to finish. Injurymap measures their success in terms of a simultaneously increased quality of treatment, a reduced need for time spent with the physio, and a higher physio's satisfaction with the job done.
But do the investors feel the same way about Injurymap's business model to digitise physiotherapy care?
"As an early-stage health tech company, investors didn't know what to expect from us. Whether we are a fast-growing consumer product or a SaaS company? It has been hard to find health-tech focused investors in the shape and form that we are"

Ulrik admits
"Making a name for yourself as a new founder isn't always easy. You're bound to be thrown a lot of curveballs".

He summarises the journey,

On the bright side, the market is changing as more health-tech companies are breaking through as unicorns including Swedish video doctor service KRY.
Moreover, in times of crisis, the health-tech industry still generates a lot of demand as the healthcare systems are desperate to economise on man-power and resources without compromising on quality.
So, the investors are becoming more open and having a better understanding of the kinds of business models that can succeed in health-tech.
In the past, some small-to-medium sized VCs and BAs from the healthcare sector have backed Injurymap and kept them afloat as they found their product/market fit.
Recently, Injurymap has raised money from Innovation fund, Vaekstfonden, PreSeed Ventures, some cool BAs like Stig Myken (founder of Hiper and lead investor) and Anne Marie Duus, who has a background in the private healthcare sector.
They also plan to raise a late seed or early A round in the next 6 months to invest in a concept that is going really well for them.
They are out there to meet investors.
"We can see that we have a unique way of offering treatment. We are really developing cool results with our unique approach to providing care as a digital company with a strong foundation in both tech and medicine. This is working out great for the patients and us. So, in the next 3-6 months, it's all about raising a big round so we can increase our value propositions, reach potential partners and just build and grow as an impactful company".

Ulrik adds on,
Why isn't Denmark bold and ambitious when it comes to public healthcare?
In the final part of Injurymap profile, its CEO and founder, Ulrik Borch emphasises on the importance of incorporating innovation and digitisation in Danish public healthcare.
"Even if the government invests in digital care just a fraction of what they invest in other areas, we could create many more awesome opportunities for health-tech start-ups and cut down on resource-expenditure"

According to Ulrik,

One way to do that is by bettering public procurement.
Our government should be bolder and more ambitious in collaborating with private companies to boost innovation and technological advancement in the much-needed public welfare sectors.
Presently, Injurymap is focused on private healthcare as that's where they see the strongest demand.
"There are many opportunities in the Danish healthcare system that can be manifold if we have a stronger and closer collaboration with the public healthcare. A very simple move that would open a lot of opportunities for new solutions and innovations in the market is allowing healthcare personnel to decide whether they want to provide virtual/video or physical consultation".

However, Ulrik reiterates,
Recently, Injurymap's partner Dansk Sundhedssikring, a private health insurer, published figures that show a three-fold increase in digital consultations for physiotherapy since last year.
It indicates that in Denmark the health-tech start-ups find their elbow room within private health spaces.
However, the bulk of physiotherapy is paid for by the public sector. Every year, around 10 million family doctor visits in Denmark are related to muscle and joint pain. Annual public spending on physio clinics amounts to roughly DKK 1.4 billion.
And even though Injurymap has partnered with the public sector for years, like with family doctors where they have gotten 5,000 doctor referrals per year since 2018, it is difficult for them to get past the so-called tipping point as long as the public sector is not more open to partnering with tech startups, and formally endorsing and promoting health tech solutions.
The impact of such a partnership would be colossal and beneficial for all – the public, the government and the health-tech start-ups.
Specifically, in a time where there is an enormous shortage of man hours, the impact of using tech to rethink how care is provided holds an enormous potential for all stakeholders in our healthcare system.
Therefore, the Danish government must consider prioritising digital care in the public healthcare systems and see health-tech start-ups like Injurymap as potential high quality solutions to the lack of human capital and resources that we are currently facing.