Do you already know what's your next car going to be like? Chances are it might be smaller, smarter and environmentally friendlier than you think. That is if you are patient enough to wait for Uniti – the Ingenious Vehicle.
Uniti the beginning
When Lewis Horne decided to turn his research project at Lund University into a startup, he didn't know how things would unfold, but the goal was clear – to create a car of the future. There was neither funding nor team in the beginning but ambition and openness helped to eventually attract both.
As a company Uniti began its existence in 2016. The first team members as well as many more to follow joined the startup on volunteer basis driven by passion for sustainability and interest to create a world class product. According to Lewis, university campuses are filled with untapped potential so it's much easier to discover and attract talents there.
"Many young people are very gifted, but their motivations for joining a company are changing. Once it was all about the big name companies, now it is about freedom, achieving something great and getting credit for your work. Here we have exactly that."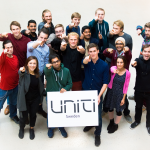 From chaos to clarity
Uniti's founder and CEO does have a unique approach to building a company. He didn't start with a clear textbook plan how to organize things. Instead there was a chaos. But through this chaos eventually emerged a functioning structure.
When it comes to the company culture its initial philosophy was preserved – Uniti is a place for self-motivated and driven people who will work independently to contribute to the common goal. And that's probably one of the reason how this startup managed to grow into a team of 60+ people in just a year and a bit. The extended team Uniti is probably even bigger and includes thesis students as well as freelancers all over the world.
Location matters
Starting a company is not an easy task to begin with, but building something as complex as a car and challenging a billion dollar industry is a whole different level. And it was not an accident that Lewis chose Lund to carry out his project.
"Before we started I've looked at a lot of locations all over the world – in the US, Europe and even within Sweden. But we have chosen to be in Lund. Here in Skåne there's a great support system which we've benefited from a great deal."
Among the many organizations that have been very helpful so far are Region Skåne, Malmostad, Almi to name a few. And there's of course an aspect of Swedish culture, where people are open and helpful and work a great deal with environmental questions. So in the end it was a match.
Crowdfunding path
As any startup Uniti had to figure the funding question. And given that openness and transparency are some of the company's fundamental values, crowdfunding seemed like an obvious choice.
Uniti's crowdfunding campaign turned out to be an undeniable success. Through emission of shares Uniti raised over 1,2 million euro in funding which has also become one of the largest crowdfunding rounds in the Nordics. In total there was over 570 investors from all over the world. The recipe is simple: be authentic, be honest, don't be afraid to be different.
Apart from finance the campaign has also shown the potential of the project. If so many people from all over the world have shown interest in Uniti, the team must be on the right path. The next step is a functioning prototype. After that will come production. And according to Lewis the plan so far is to set it up in Malmo, which will require further funding.
It looks like upcoming years will be eventful not only for the Team Uniti but for the entire region.