Today we are introducing a fresh startup Digital Wasabi from Denmark. It was founded in May 2019, by Christian Godoy Jørgensen, who has seen the gap in the market after many years of working with other SaaS startups. We have recently asked Christian to share more insights about his previous experience, the new startup and team he is working with.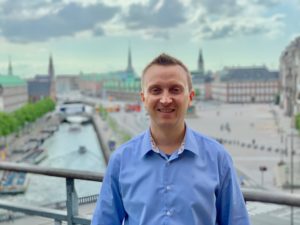 Hello Christian! So glad to have you here. Tell us briefly about the startup you have founded. How did you come up with the idea for Digital Wasabi?
Digital Wasabi is a digital agency solely focused on helping B2B SaaS companies supercharge their growth and achieve their full potential. I came up with the idea for Digital Wasabi after I've worked in a couple of successful software startups, Planday and Tame, where I built the inbound lead generation engine from scratch and spearheaded the companies' growth trajectory.
To keep things fresh, we would often take on marketing agencies to give us a new perspective on what we could try to scale inbound lead generation further. Often we would realize, however, that the agencies didn't fully understand how a software company with a subscription model works and how to measure what success looks like, which made the collaborations less successful than we have hoped for.
My passion and true calling in life is scaling up software companies through intelligent and bespoke inbound marketing strategies. When the opportunity to start Digital Wasabi came up, I realised that starting my own digital agency was an absolute no brainer – I jumped right at it, because that's where both my heart and expertise lie.
How did you come up with the name Digital Wasabi for your startup?
My wife and I are both foodies, and we absolutely love food with a spicy kick and that's when the Wasabi-root came to our minds. The idea was to combine digital and wasabi, to give digital marketing a powerful kick.
How long have you been active?
Since 2013 I have been working as a digital marketing consultant on a freelance basis as a side project. I established Digital Wasabi in 2019 because I saw how much potential there is in this particular area.
Is this kind of service provided anywhere else in the world?
After extensive research, I have only managed to find two US-based agencies that are 100% focused on SaaS businesses. All of the other agencies offer it as a part of their service portfolio and not as their sole specialism. To truly understand the mindset, the marketing funnel and the bottom line of what it takes to build a successful SaaS company requires thorough specialization if you want to succeed. That's why I decided to narrow down my focus on this particular niche.
Who do you see as your main clients? How much will this service cost?
My main clients are software companies selling their product to other businesses on a subscription model basis. What they all have in common are international growth ambitions and rapid scaling up.
Many of them are also preparing for raising an investment round, this is the start-up world after all. For the due diligence process to go as smoothly as possible, they need to have their inbound lead funnel working flawlessly, plus they also need to have a thorough understanding of what variables are driving the marketing and sales pipeline. Digital Wasabi is able to provide them with the frameworks and the insights they need to succeed when it comes to scaling their business in the most financially sustainable way possible.
The cost for this service depends on the needs of the individual client and we tailor our approach to every single one. Most often we are asked to help with driving up the monthly recurring revenue and with decreasing the customer acquisition cost – two key metrics you need to have under control if you want to grow a software company.
What kind of experience do you have? Tell us briefly about your previous work with startups.
For almost 6 years, I worked at Planday, a Copenhagen-based SaaS company focusing on improving scheduling tasks. I was responsible for building up all marketing and inbound lead generation activity from the ground up. The effort that my team and I put into lead generation was what made Planday take off and what helped it become one of the most well-funded SaaS companies in Europe, something I'm particularly proud of. We were able to achieve a very high growth rate by bringing in new customers every day. After that, I worked at Tame to scale up their growth within the event management software space. Last but not least, over the last few months I have been working with Pento, Dixa and other up and coming startups that want to scale fast and in a sustainable way.
Tell us briefly about your team.
Aside from myself, my team consists only of people who currently work or have worked at SaaS companies and who all understand the industries' challenges. Peter is my right hand, when it comes to setting up reporting dashboards, so we can show the progress of our efforts to our clients in real-time. Next, there is Sarah, who takes care of the copywriting and content side, making sure that the messaging on the website and on social channels is always on point. Finally, there's Thomas, whose area of expertise is search engine optimization, like SEO Wisconsin, and Andreas, who is a Google Ads and other paid channels genius. Lastly, there's our office cat, Unicorn, who mostly sleeps throughout the day, but once in a while she comes out to play and brightens our day.
What are Digital Wasabi's challenges right now? 
Like any other agency where you get paid on a project basis, your cash flow will go up and down depending on the demand in the market. Everything is going really well at the moment, because there are a lot of software companies in Copenhagen looking for help in scaling up their operations. We are also considering building our own bespoke marketing software solution that would help SaaS companies scale better and faster, so we can establish a more stable and recurring revenue flow and get the opportunity to help even more clients.
Thank you, Christian, for the interview. Our last question is, how do you see the company develop in the next few years?
We will most likely expand our geographical focus to also include Sweden, especially the Malmö and Stockholm areas, because both cities have a great startup scene I'd love to get more involved in. We're also thinking about London as a possibility further down the road. Our SaaS solution platform will be helpful for software companies on a global scale regardless of their location, so there are no limits to where that project can take us!
Read more about Digital Wasabi: www.digitalwasabi.dk